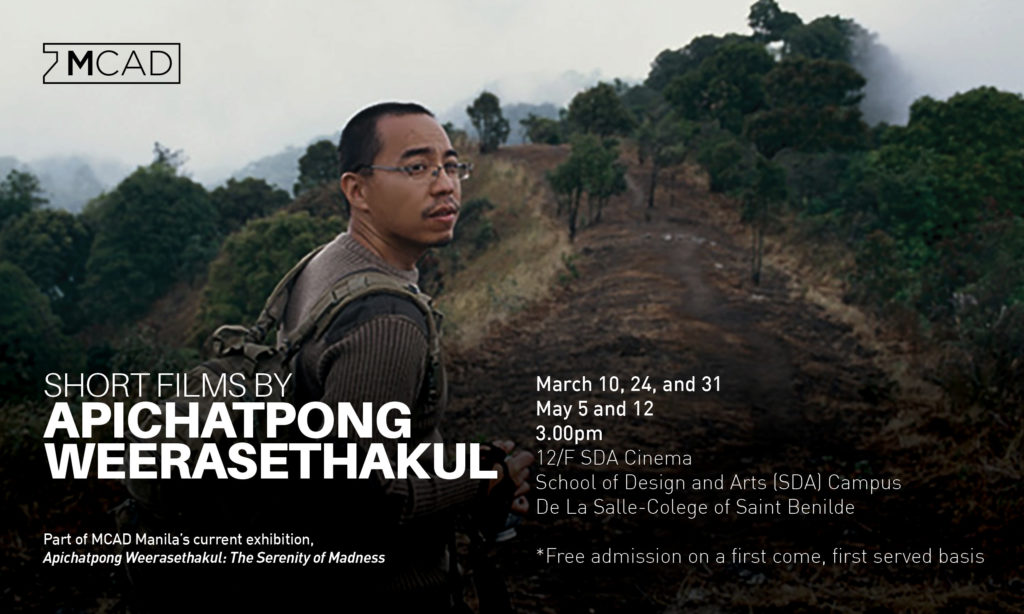 As part of its current exhibition, Apichatpong Weerasethakul: The Serenity of Madness, MCAD will be screening a selection of acclaimed Thai Filmmaker Apichatpong Weerasethakul's short films on select Fridays of March and May 2017, 3pm at the De La Salle-College of Saint Benilde SDA Cinema.
The program comprises a selection of rarely seen shorts made over the past 14 years and produced in a wide variety of formats. All films presented digitally and directed by Apichatpong Weerasethakul.
Admission is FREE and open to the public. Guests will enter through the Benilde SDA lobby along P. Ocampo St. The SDA Cinema will be on the 12th floor. Kindly inform lobby guards that you will be watching the screening organized by MCAD at the cinema. Please bring proper identification.
---
Dates:
10 March 2017, Friday
24 March 2017, Friday
31 March 2017, Friday
5 May 2017, Friday
12 May 2017, Friday
SHORT FILMS
Empire (2010)
02:00 mins
Nokia Short (2003)
02:00 mins
M Hotel (2011)
11:50 mins
Luminous People (2007)
15:00 mins
Footprints (2014)
05:50 mins
Monsoon (2011)
03:11 mins
Vampire (2008)
19:00 mins
Nimit (2007)
15:57 mins
Ghost of Asia (2005)
09:11 mins
A Letter to Uncle Boonmee (2009)
17:40 mins