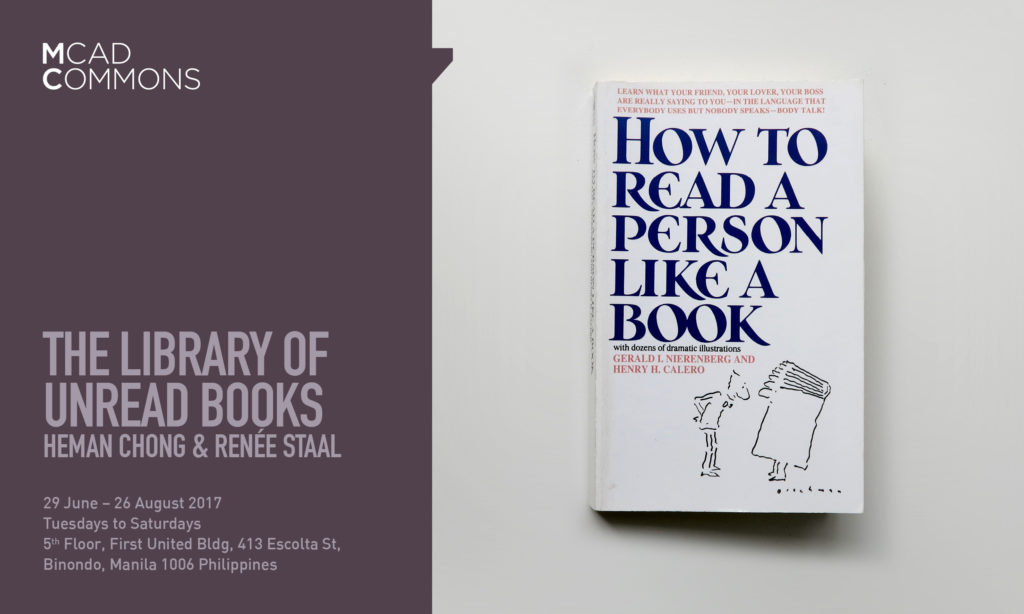 29 June – 26 August 2017
Tuesdays to Saturdays
5th Floor, First United Bldg, 413 Escolta St,
Binondo, Manila 1006 Philippines
The ​second​​​ iteration of a ten-year-long project, ​The Library of Unread Books​ develops from the artist's deep-seated longing for books. ​Open to the public, the reference library ​is ​made up of donated books that are unread by their previous owners. By receiving and revealing that which people choose not to read, the Library is the result of a collective gesture ​that traces the perimeters of unwanted knowledge.
---
About MCAD Commons
MCAD Commons is as an upcoming exhibition programme of the Museum of Contemporary Art and Design, Manila. It is conceptualised as a programmed space that is removed from the main gallery space of the museum.
Conceived as a project to continue the expanding activities of the museum, MCAD Commons brings MCAD's singular programming to a larger audience that allows for the engagement with creative development, ideas exchange, and support of the artistic process across the areas of research, art practice, and curatorial discourse.
Following the thinking that art is reproducible, the choice of space is developed in-step with the creative formation of the show rather than as a passive, neutral receptacle. The varied formations of the shows will tie in with the community that sustains the site and the process of art making.