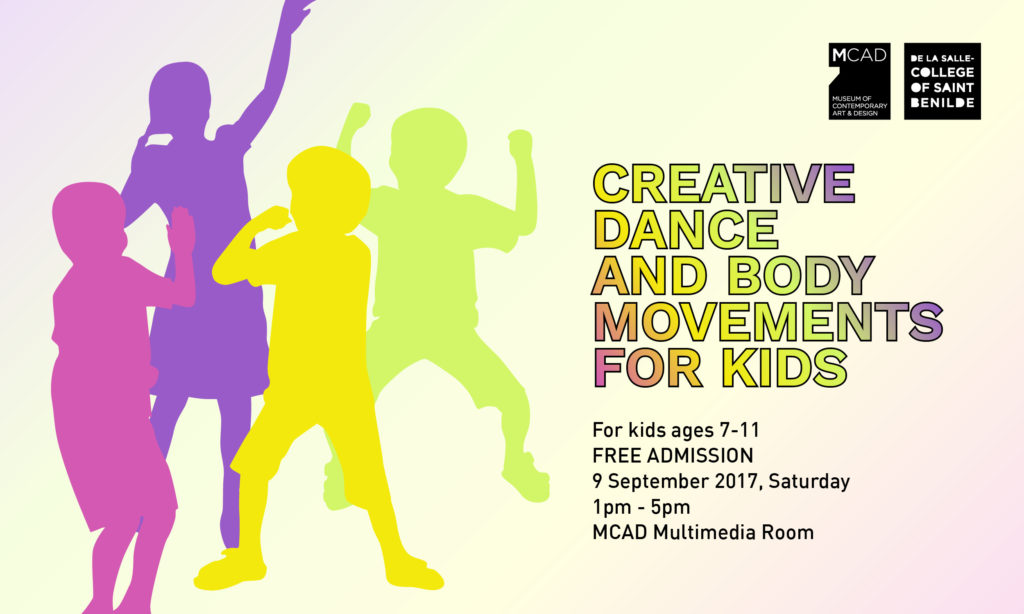 Creative Dance and Body Movements for Kids
For kids ages 7-11
9 September 2017, 1pm – 5pm
MCAD Multimedia Room
UPDATE: Registration for this workshop is now closed. Thank you for your interest.
Dance is a way for children to develop their sense of self as well as their awareness of others. It also provides an avenue for encouraging their creativity. Using their bodies as instruments, children exploring shapes, space and movement in response to challenges find a variety of approaches in problem-solving. The 3-hour workshop will introduce participants to creative dance and body movement for theater. Participants ages 7-11 will learn from Julia Enriquez and Eric de la Cruz of DLS-CSB Office of Culture and Arts and Theater Program.
The workshop is free and open to the public as part of the public programs for MCAD Manila's current exhibition, Re-enactments. Limited slots only.

---
Eric is an actor, director, educator and creative consultant. He is a senior artist-teacher of the Philippine Educational Theater Association (PETA) and the founder and one of the creative navigators of TAXI (Theater. Applied. Experiential. Immersive) Theater.
Alleyne Enriquez trained as an artist, teacher, organizer, researcher and youth leader at the Philippine Educational Theater Association. She is currently a Cultural Coordinator in De La Salle-College of Saint Benilde Office of Culture and Arts. She handles the external communications of the office and links their artist-scholars to different networks.