UPDATE: The screenings for Apichatpong Weerasethakul's feature films has been rescheduled on 31 May 2017 at the Cine Adarna, UPFI Film Center. Uncle Boonmee Who Can Recall His Past Lives will be shown at 5.00pm, then Cemetery of Splendour will be shown afterwards at 7.30pm.
The screenings will be FREE OF CHARGE to compensate for the previous screening cancellation.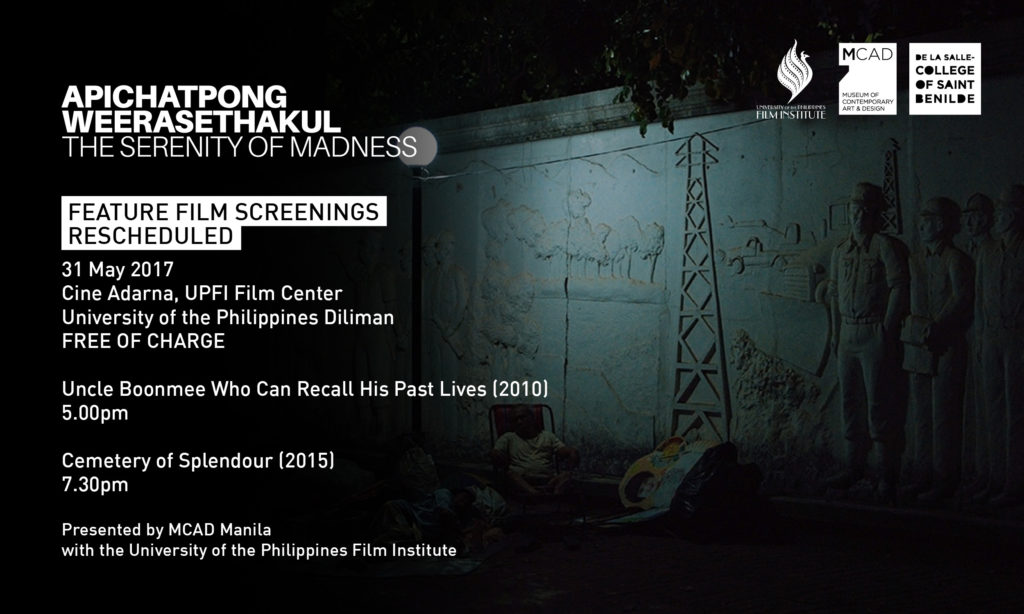 Screening Schedule

Uncle Boonmee Who Can Recall His Past Lives (2010)
5.00pm
---

Cemetery of Splendour (2015)
7.30pm
---
Coming this May, two feature films by acclaimed Thai Filmmaker Apichatpong Weerasethakul are coming to Manila. Save the date, on 31 May MCAD will be screening Uncle Boonmee Who Can Recall His Past Lives which won the Palme d'Or at the 2010 Cannes Film Festival and Cemetery of Splendour, the filmmaker's most recent film which premiered in 2015 to critical acclaim.
Don't miss this rare opportunity to watch these films on the big screen! These screenings accompany the Museum of Contemporary of Art and Design (MCAD) Manila's current exhibition, Apichatpong Weerasethakul: The Serenity of Madness which runs until 14 May 2016.
The screenings are co-presented with the University of the Philippines Film Institute.
*Tickets are available at the venue. Free seating.
SCREENING IS FREE OF CHARGE
Press Contact:
Patricia Paredes
patriciaana.paredes@benilde.edu.ph
230 5100 loc 3897